Types of Lessons
EcoReach participants design creative, hands-on activities as well as presenting basic information about ecology topics in the form of In-person or Virtual presentations. Some programs include hands-on scientific experiments, art projects, role-playing activities, reading literature, or guided nature walks. We target our activities to specific grade levels ranging from kindergarten through high school.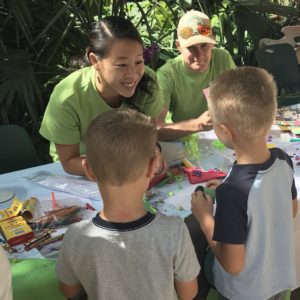 Topics of discussion
EcoReach has developed programs on a diverse range of topics, such as: Aquatic Macroinvertebrates, Plastic Pollution, Pollinators and Plants, Firefly Monitoring, Birds and their Adaptations, Birding and using Binoculars, Groundwater Flow, Water Resources & Land Use, Butterflies, All About Moths, Tropical Rainforests, and Biomes of the World. 
Also check out our selection of Virtual and At-home Activities that can be done independently.
We continue to diversify our range of topics and are also excited to work with educators to offer personalized lesson plans and programming for educators based on the needs of their students. We emphasize developing programs to supplement schools' objectives while also fulfilling the requirements of the state curriculum guidelines.
Explore EcoReach's at-home Activities:
At home activities and games for kids and students (K12) to learn about environmental and ecological concept, while having fun!
Darwin's Finches Activity
In this activity, you will use different "beaks" (forks, spoons, knives, and cups) to collect different types of "food" (anything you can find around the house that is small enough to be picked up with the tools mentioned above)! You will do this in three different "environments" (bins).