In December, EcoReach piloted a project called "Backyard Critters" that has been in the making since the start of the school year. Through this project, we want to highlight the diverse ecosystems in Athens by encouraging students and community members to share the different critters they find in their backyards and neighborhoods. We have designed the Backyard Critters Program to collaborate with K-12 teachers and students and get young people excited about observing the ecosystems that they live in! Anyone in the Athens area, including K-12 students, UGA students, and other community members can participate!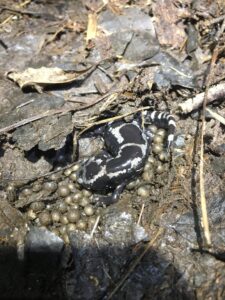 For the project, EcoReach is taking submissions of critter observations from the Athens area. Critters can range from squirrels to mushrooms, from plants to hawks, and anything in between! We have already received a few submissions of critters, such as a marbled salamander and a Japanese camellia flower! Submitting a critter can be a fun and creative way to learn about the ecosystem you live in, especially since a Backyard Critters team member will follow up on your submission to provide helpful information and answers to any questions! Get creative with your submissions – you can share a photo, drawing, story, poem, or whatever you're inspired to create! You can submit your critters at this link: http://bit.ly/EcoReachBackyardCritters, along with a description of the location, where the critter was found, and any questions that you have. We have a great network of ecologists who are happy to answer any questions. These submissions and ecological fun facts will be shared more broadly on the EcoReach website, so stay tuned!
Beyond receiving submissions of critters, EcoReach is also excited to collaborate with classrooms participating in Backyard Critters. Teachers can schedule Zoom sessions with ecologists to discuss more in-depth information about local plants, animals, and ecosystems with students! We can also create posters of critter submissions from students that can be displayed in participating classrooms.
We are excited to see everyone's submissions and to continue developing this program as more people get involved! We will be posting on social media and advertising the project to get the word out to the community. Let's get to know the ecosystems we live in by observing the awesome critters that live all around us!