EcoReach is back in action this semester with classroom guest lectures. On March 4, 2021, EcoReach member Anna Willoughby facilitated a guest lecture for approximately forty students from Athens Academy. The presentation, "Ecology of Infectious Diseases," was presented over Zoom to four seventh grade classes.
The students came into the lecture with background knowledge of infectious and noninfectious diseases, as they are preparing for a research project based on a disease of their choice. During the lecture, the students were introduced to disease ecology and different disease agents, including topics like vectors and bacterial diseases. Willoughby also discussed the history of Yersinia pestis, the bacteria which causes the bubonic plague, in North America. Relating to current events, Willoughby discussed how COVID-19 and plagues can have an impact on host behavior, such as quarantining and avoiding transmission to other organisms. For example, many countries experienced quarantining with COVID-19, and some researchers have concerns that the virus could transmit into the wildlife populations.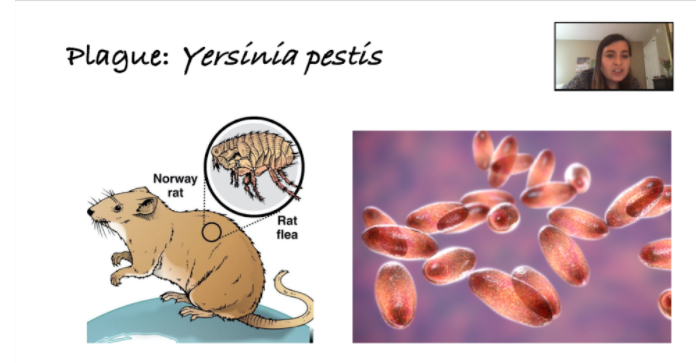 Students can use the information they learned from the lecture to further develop their research projects, as well as find connections between their projects! 
EcoReach is excited to continue participating in projects like these guest lectures to get students excited about science and ecology! These opportunities also allow EcoReach members to engage with students with meaningful science communication and education experience. We hope that sharing information with students about infectious diseases which heavily impact humans and other organisms' health, contributes to students' knowledge, perspectives, and awareness of the world around them.